NetStaX EIPScan – EtherNet/IP Scanner Simulator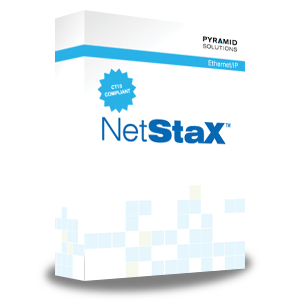 Version 2.4
Pyramid's NetStaX™ EtherNet/IP Scanner Simulator (EIPScan) is an extremely useful tool for testing and debugging EtherNet/IP™ products, performing end-of-line testing, field testing and demonstrating your EtherNet/IP products to end customers.  EIPScan also provides Adapter simulation capabilities by allowing Assembly instances to be registered in the tool that can be connected to by other scanners.
EIPScan is a very user friendly PC/Windows™ application that allows you to test EtherNet/IP messaging and connections on a standard PC or Laptop.  No additional software or hardware is required.
New Version 2.4 features and updates
New security software is now integrated that prevents the EIPScan unlock key from being invalidated by Windows Updates or hardware changes on the licensed PC or Laptop.
Built on Pyramid's latest CT18 tested EtherNet/IP Scanner Stack
Improved stack and UI performance
A new EIPScan-SECURE option is available that enables CIP Security connections. The base EIPScan operates as before with standard connections and messaging and once the EIPScan-SECURE option is enabled, additional user interface options are enabled to allow secure connections.
Added support for Identity object v2. Catalog Number and Manufacture Date is now displayed with the device Identity information.
Class 3 Maximum request size is now configurable, allowing the use of Large Forward Open and request sizes up to 1516 bytes.
Originated Class 1 output (O->T) data buffer can now be edited when the connection is inactive (timed out or closed).
Other EIPScan updates based on user feedback (see the release notes provided with EIPScan).
Components
EIPScan executable
EIPScan User Reference Manual
EIPScan Quick Start Guide
EDS file compatible with RSNetWorx for EtherNet/IP
EIPScan Release History Notes 
Features
Connect to devices through one or more Ethernet interfaces on the PC
Browse the network(s) for devices or manually add them
Configure and schedule implicit (I/O) and connected explicit connections
Establish secure connections using the EIPScan-SECURE option*
View I/O input data and modify output data
Send connected and unconnected explicit messages
Built-in automated testing of explicit and implicit connections
Browse File Object contents of devices on the network
Class 1 automated tests
Generate randomized data at fixed intervals
Simulate one or more adapter devices (via exposed Assembly objects only)
Compatibility
Scanner Class (client/originator) functionality
Adapter Class (server/target) functionality
UCMM (unconnected) explicit messaging client and server
Class 3 (connected) explicit messaging client and server
Class 1 (I/O) implicit connection client and server
Secure Connections*
Works with Rockwell Software's RSNetWorx™ for EtherNet/IP
Supports 256 host interfaces
Platform Compatibility
Microsoft Windows 7, 8/8.1 and 10
Minimum PC: Pentium II, 233MHz
Supported/Included Objects
Message router
Connection manager
Identity
Ethernet link
TCP/IP
Port
Assembly
Connection configuration object
CIP/Modbus translation (routing to Modbus/TCP)
Security Objects*
* The EIPScan-SECURE option must be purchased to enable these features

Immediate Download Available