NetStaX EIPScan EtherNet/IP Scanner Simulator Tool
Version 2.3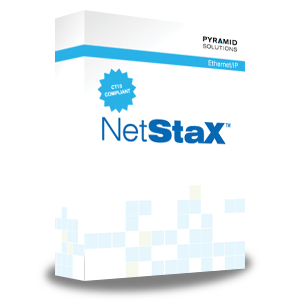 NetStaX™ EIPScan is an extremely useful tool for testing and debugging EtherNet/IP™ products, end-of-line testing, field testing and demonstrating your EtherNet/IP products to end customers.
NetStaX EtherNet/IP Scanner Simulation Tool (EIPScan) is a PC/Windows™ application that allows you to test EtherNet/IP messaging and connections built on our NetStaX EtherNet/IP CT13 Scanner Stack.
Componenets
EIPScan executable
EIPScan User Reference Manual
EDS file compatible with RSNetWorx for EtherNet/IP
Features
Connect to devices through one or more Ethernet interfaces on the PC
Browse the network(s) for devices or manually add them
Configure and schedule implicit (I/O) and connected explicit connections
View I/O input data and modify output data
Send connected and unconnected explicit messages
Built-in automated testing of explicit and implicit connections
Browse File Object contents of devices on the network
Class 1 automated tests
Generate randomized data at fixed intervals
Simulate one or more adapter devices
Compatibility
Scanner Class (client/originator) functionality
Adapter Class (server/target) functionality
UCMM (unconnected) explicit messaging client and server
Class 3 (connected) explicit messaging client and server
Class 1 (I/O) implicit connection client and server
Works with Rockwell Software's RSNetWorx™ for EtherNet/IP
Supports 256 host interfaces
Platform Compatibility
Microsoft Windows 7, 8/8.1 and 10
Minimum PC: Pentium II, 233MHz
Supported/Included Objects
Message router
Connection manager
Identity
Ethernet link
TCP/IP
Port
Assembly
Connection configuration object
CIP/Modbus translation (routing to Modbus/TCP)

Talk with one of our connectivity experts.