Focus more on your customers and less on document management.
Enhance and automate your entire mortgage process – from origination to post-close to correspondent lending/servicing  – allowing you to close more loans faster with fewer resources.
Mortgage Loan Origination
Correspondent Lending/Servicing
Mortgage Loan Origination Software
Our Mortgage Solution integrates seamlessly into your existing loan origination system to streamline and speed up the origination process. It adds intelligence and workflows to each loan ensuring underwriters evaluate loans faster.  It does this through various features including:
Visual tags: Originators and processors can tag loan documents to visually identify where documents are in a process (e.g. "waiting for signature") or any document-specific decisions or exceptions.

Bookmarks: Users can bookmark extracted data for future one-click access. For example, a user can bookmark a page as "First Payment Date" so if someone in post-closing needs to see that date, they can click on the bookmark which will take them directly to that document page.
Post-Close
With our Mortgage Solution, lenders can quickly finish up the post-close process and sell loans to the secondary market or onboard into servicing faster. Since the secondary market often drives priorities, our solution allows for ad-hoc prioritization and more.
This means financial institutions can change teams' priorities for short-term prioritization on a monthly, weekly and even daily basis.
Correspondent Lending/Servicing
The number one challenge with correspondent loans is validating documents against data. Many organizations perform this process with the stare-and-compare method. However, comparing countless documents to collected data is grueling and error-prone. We offer a different approach by turning your business policies into automated workflows.  
An optical character recognition capability extracts key data from documents.

Documents and loan data automatically run through your business policies, perform a comparisons and flag exceptions if found.

Instead of wasting employees' time reviewing information that's wrong

and

right, the software reviews everything and they only have to spend time looking at and resolving incorrect information.

It presents the user with a prioritized list of exceptions.
This makes servicing a standardized process so your organization can apply policies faster and more accurately and easily remediate exceptions.
Focus on Your Customer
We'll Focus on IT…
Why burden your team with the unwanted stress of building, deploying, and maintaining your infrastructure and applications?
Pyramid Solutions' Managed Services provides you the assurance and time to focus on providing new innovative services to your customers.  With a secure environment and guaranteed high availability, your applications will be humming 24×7. 
From building out your cloud strategy to customizing applications to deployment, let Pyramid Solutions handle it.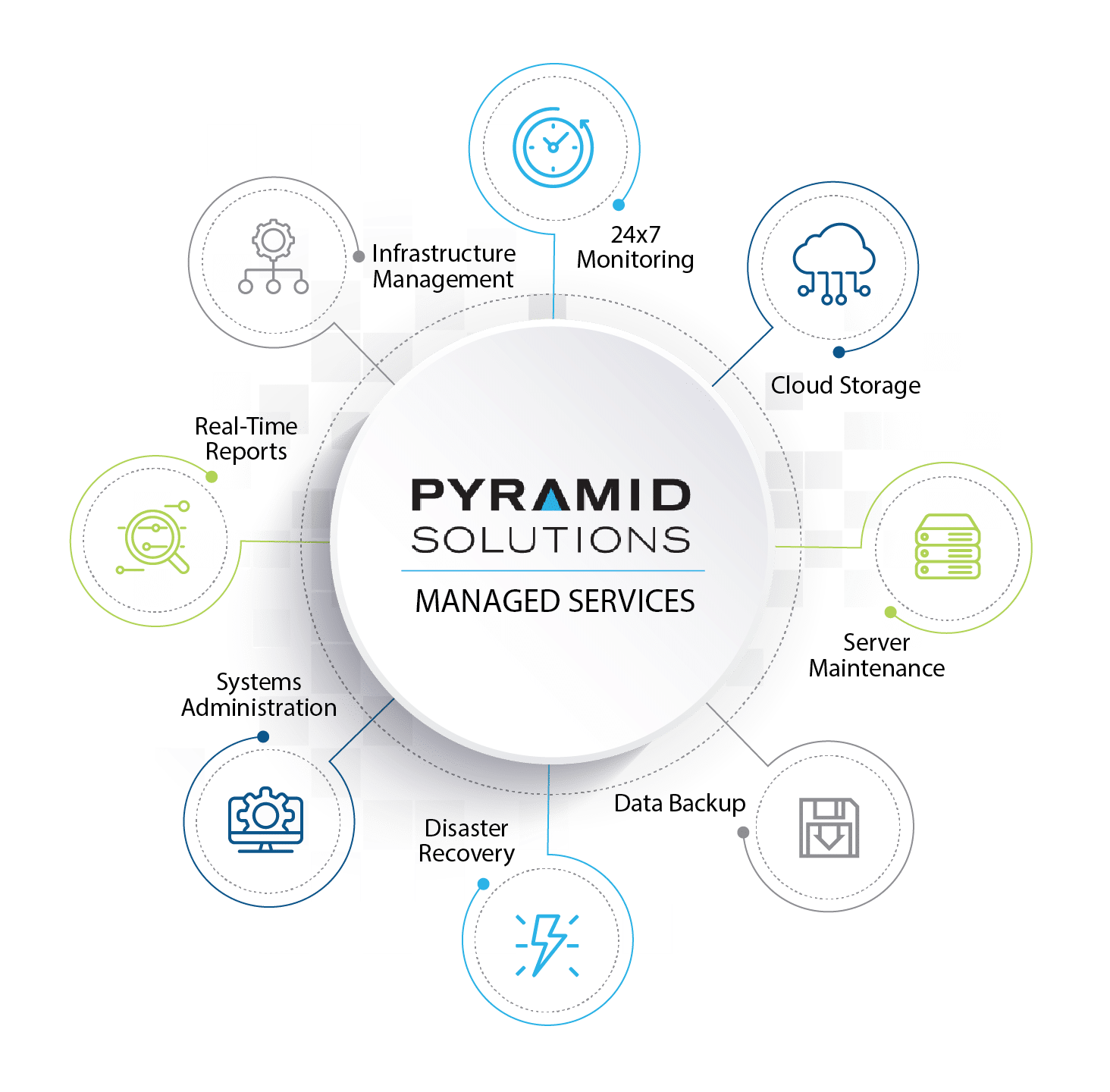 Talk with one of our banking experts.