The BridgeWay™ Ethernet to J1939 Gateways supports EtherNet/IP™ and Modbus/TCP protocols over Ethernet. It operates as an EtherNet/IP Adapter Class (server) device, allowing an EtherNet/IP Scanner (client) to read and write J1939 network PGN data. The gateway also operates as a Modbus/TCP Slave, allowing a Modbus/TCP Master to read and write J1939 network PGN data.
Our free Windows-based configuration tool (BWConfig) allows users to map J1939 parameter (PGN) data into input and output tables accessible over EtherNet/IP (via assembly data) or Modbus/TCP (via register data). It also supports Diagnostic (DM1 and DM2) messages for input messages.
Our Ethernet to 1939 Gateways Support
N

ControlLogix to J1939

N

CompactLogix to J1939

N

MicroLogix to J1939
N

Siemens to J1939

N

S7 to J1939

N

S7-1200 to J1939
N

S7-1500 to J1939

N

Schneider to J1939

N

Modicon to J1939
N

EtherNet/IP to J1939

N

Modbus TCP to J1939

N

Rockwell to J1939
Generation 2
BW4031 BridgeWay Gateway
Features
Configurable so the user can specify which J1939 PGN messages the module should transmit or receive
Supports SAE J1939 vehicle protocol, and EtherNet/IP (Adapter) and Modbus/TCP (Slave) industrial automation protocols
Works with ControlLogix, CompactLogix, SLC5/05, MicroLogix and other compatible PLCs, HMIs and Controllers supporting native EtherNet/IP (CIP) messaging and connections
Works with Modbus/TCP Master PLCs, HMIs and other devices
Configuration via free Windows-based software tool (BWConfig) – save, edit and load configurations
Supports Flash field upgrades
LED network and module status indicators
Includes DIN rail mount
Rugged extruded aluminum enclosure
Brand label/OEM options
Specifications
Dimensions: 110 x 35 x 101 mm / 4.33 x 1.38 x 3.98 in
Operating voltage: 7 – 40 VDC
Operating temperature: -25°C – 70°C
Current requirements: 300mA at 24 VDC
Mechanical rating: IP20 NEMA rating 1
Approximate weight: 184g
Certifications:

UL certification: UL 61010-1 and UL 61010-2-201
ATEX certification: EN 60079-0 and EN 60079-15
CE certification: EN 61000-6-2 and EN 61000-6-4
Optional Accessories
BW4031 Migration Wire Harness (Part No. BW4031-MH)
Allows direct connection into existing AB7645 installation
Plug the existing 5-pin Phoenix connector into the migration harness, import your AB7645 configuration file, download it and you are up and running
Migration to the BW4031 can be completed in a matter of minutes
CANable Lite PGN Monitor Package (Part No. CANable Lite)
This quick and easy PC-based tool is used to view PGN messages on a J1939 (CAN) Network (critical for integrating or troubleshooting an installation). The CANable Lite package includes:
USB to CAN Adapter
CANable Lite PC/Windows software
User manual
FAQS
How can I purchase a BW4031 device?
Please contact us for all inquiries regarding price, availability, and distribution.
What protocols are supported?
Supported protocols include:
EtherNet/IP AdapteR
Modbus TCP* Slave
J1939 (125k, 250k, and 500k)
Note: The BW4031 can also connect to SIEMENS Controllers using Modbus TCP.
What is included with the BW4031?
Each device comes with the following:
3 Pin Phoenix connector for power
6 Pin mini-Phoenix connector for J1939
BWConfig 2.0 configuration tool
User Manual
What is required, but NOT included?
A properly-wired and terminated J1939 network
An EtherNet/IP or Modbus TCP device (PLC, HMI, etc.)
Proper 24 VDC power
A computer to run the BridgeWay configuration tool, BWConfig 2.0
A Micro USB to USB cable to connect the computer running BWConfig 2.0 to the BridgeWay device
Can I use one BW4031 to read/write PGN messages on two or more J1939 engine networks?
No, this would require that you connect these networks together physically. Engine control systems are generally designed as self-contained J1939 networks and the CAN addresses (e.g. Address 0 for the engine ECU) would collide with the ECU address for another engine network if they were tied together. You may also run into termination or network trunk/drop length issues.
In this scenario, one BridgeWay device will be required for each J1939 engine network. The BridgeWay can then have the same J1939 (CAN) address on each individual network, but the host (Ethernet, Modbus RTU, or PROFIBUS) address will have to be unique for each gateway if using a single PLC to read/write data through each gateway.
What J1939 PGN messages does the BW4031 support?
The BW4031 supports all standard SAE PGN messages, proprietary range PGNs, and DM1 and DM2 diagnostic messages. Configure the BW4031 for the input and output PGNs/SPNs you need for your application. The free BWConfig 2.0 tool helps you accomplish this. The BW4031 is not OEM-specific, it is J1939-specific.
Generation 1
AB7645 BridgeWay Gateway  
End of Life Scheduled for 12/31/2021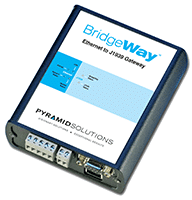 Features
Configurable so the user can specify which J1939 PGN messages the module should transmit or receive
Supports SAE J1939 vehicle protocol, and EtherNet/IP (Adapter) and Modbus/TCP (Slave) industrial automation protocols
Works with ControlLogix, CompactLogix, SLC5/05, MicroLogix and other compatible PLCs, HMIs and Controllers supporting native EtherNet/IP (CIP) messaging and connections
Works with Modbus/TCP Master PLCs, HMIs and other devices
Configuration via free Windows-based software tool (BWConfig) – save, edit and load configurations
Supports Flash field upgrades
LED network and module status indicators
Includes DIN rail mount
Rugged extruded aluminum enclosure
Brand label/OEM options
Specifications
Mechanical dimensions: L=4.96″ (126mm); W=4.30″ (109mm); H=1.65″ (42mm)
Approximate weight: 16 oz.
Operating voltage: 11 – 32 VDC
Current requirements: 130-140 mA at 24 VDC
Operating temperature: -25 – 70° C
EMC compliance: EN50081-2 and EN50082-2
Certifications: CE and cULus
UL certification: E203225, Listed 67AM, UL-1604 Class 1, Div 2, GP A, B, C, D, Temp Code T4
ATEX certification: ATEX 135419, II 3 G, EEx nL IIC T4, DEMKO 03
Mechanical rating: IP20/NEMA 1
Optional Accessories
AB7645 Configuration Kit (Part No. AB7645-CFG)
3 meter 9-to-9 pin serial cable used to configure the module with BWConfig software
Latest version of AB7645 User Manual, BWConfig software, application notes, sample configurations, ControlLogix and MicroLogix examples, and EDS file
CANable Lite PGN Monitor Package (Part No. CANable Lite)
Used to view the PGN messages on a J1939 (CAN) Network (necessary for integrating or troubleshooting an installation)
USB to CAN Adapter
CANable Lite PC/Windows Software
User Manual