Underwrite More Policies in Less Time
Enhance your underwriting process with a solution that leverages the latest in case management, cognitive capture, advanced analytics and workflow technology to reduce the time it takes to process an application.
Powered by Cognitive Capture
and Advanced Analytics 
From obtaining customer information to approving applications, our Life Underwriting Solution complements your existing underwriting system to accelerate the process every step of the way.
Only Review Information That Matters
How much time could your underwriters save if they only had to review the information that mattered the most? Information that pertained to the three leading causes of death: heart disease, diabetes and cancer.
If they instantly knew an applicant had any indication of these in their file would it save them money and time to quickly deny the applicant?
That's exactly what the Pyramid Solutions Life Underwriting Solution does. It captures anything related to the three leading causes of death, cleans the information by removing duplicates, identifies handwriting, and classifies the information into easy-to-consume dashboards and reports, providing underwriters with one-cilck access to information.
For example:
If your capture system gave you a name such as "Dr. Williams," it would be meaningless. Nothing can be done with "Dr. Williams."
If it put the word "Cardiologist" in front of it, you have an idea of what the name means. If an address is also provided, now you have something to work with.
Gain Deeper Analytical Insights
Data is the key to the underwriting process. Your underwriters depend on data to make accurate and consistent decisions on whether to approve or deny an applicant. But their decisions are rooted in their experience and knowledge.
With our built-in analytics, you can loosen dependence on senior underwriters and unlock the value of your data to provide accurate and consistent rating scores. Easily understand:
Key health indicators

Average body mass index
Disposition of diabetes
Mortality differentials

Risk scores based on data sources from:

MIB
MVR
Prescription history
Policy application
Lifestyle data
MIB Insurance Activity Index

Individual Risk insights

Diagnostics conditions
Potential conditions
Lifestyle
Credit score

Geographic clusters based on cancer, diabetes and heart disease

Estimated deaths in upcoming years based on historical data
Streamline With Automation
Automation is the key to efficiency. The Life Underwriting Solution automates mundane tasks to ensure your underwriting department is operating at its highest productivity levels possible. Ask us to see how our Life Underwriting solution can:
Assign tasks and cases to specific underwriters based on skill level
Facilitate application approvals and denials
Request more information from clients
Put an application on hold
Perform searches
Pull information from third-party data sources
Publish and share underwriter notes
Request an APS
Check if the applicant has applied before
Check to see if the applicant has any previous fraudulent activities
and more.
Work from a Single Interface
An underwriter's workbench is a culmination of all the capabilities that the Life Underwriting Solution has to offer.
With a unified view, underwriters no longer need to jump from application to application to complete their work. They now have access to many tools and capabilities:
Customized or pre-built dashboards for easy assessments
Built-in "to-do" lists to keep them on track
Split a document apart
Merge documents together
Redact sensitive information before sending it out
Collaborate in real-time with colleagues
Take notes about your decision and publish them
Organize case documents
Search, find, view and share content
…just to name a few.
Extend Your Initial Investments
If integrating a new life underwriting system sounds scary because you envision high costs and downtime, rest easier at night knowing that's not how our Solution works.
With our Life Underwriting Solution, you won't have to shut down productions because it is designed and built to complement your existing process by seamlessly integrating into it and offering a smooth experience for your underwriters.
See the Bigger Picture
With the Life Underwriting Solution, underwriters and their managers get a complete view of the underwriting process.
Task lists display all the completed and upcoming tasks needed to move an application through the process so managers and underwriters can see what steps are left in the process, what stage the application is in and what work has already been completed. Comprehensive dashboards can display your team's throughput rates, where bottlenecks exist, which applications are in danger of taking too long and how old an application is. A comments feed reveals real-time conversations between teammates and notes from underwriters regarding decisions made on an application. Case folders contain all the content associated to an application.
Accelerated Underwriting: Foundational Pieces for Success
There are a lot of things going against underwriters – from a changing marketplace to the complexity of underwriting, but leveraging cognitive capture, case management and predictive analytics are ways to start off on the right foot.
Focus on Your Customer
We'll Focus on IT…
Why burden your team with the unwanted stress of building, deploying, and maintaining your infrastructure and applications?
Pyramid Solutions' Managed Services provides you the assurance and time to focus on providing new innovative services to your customers.  With a secure environment and guaranteed high availability, your applications will be humming 24×7. 
From building out your cloud strategy to customizing applications to deployment, let Pyramid Solutions handle it.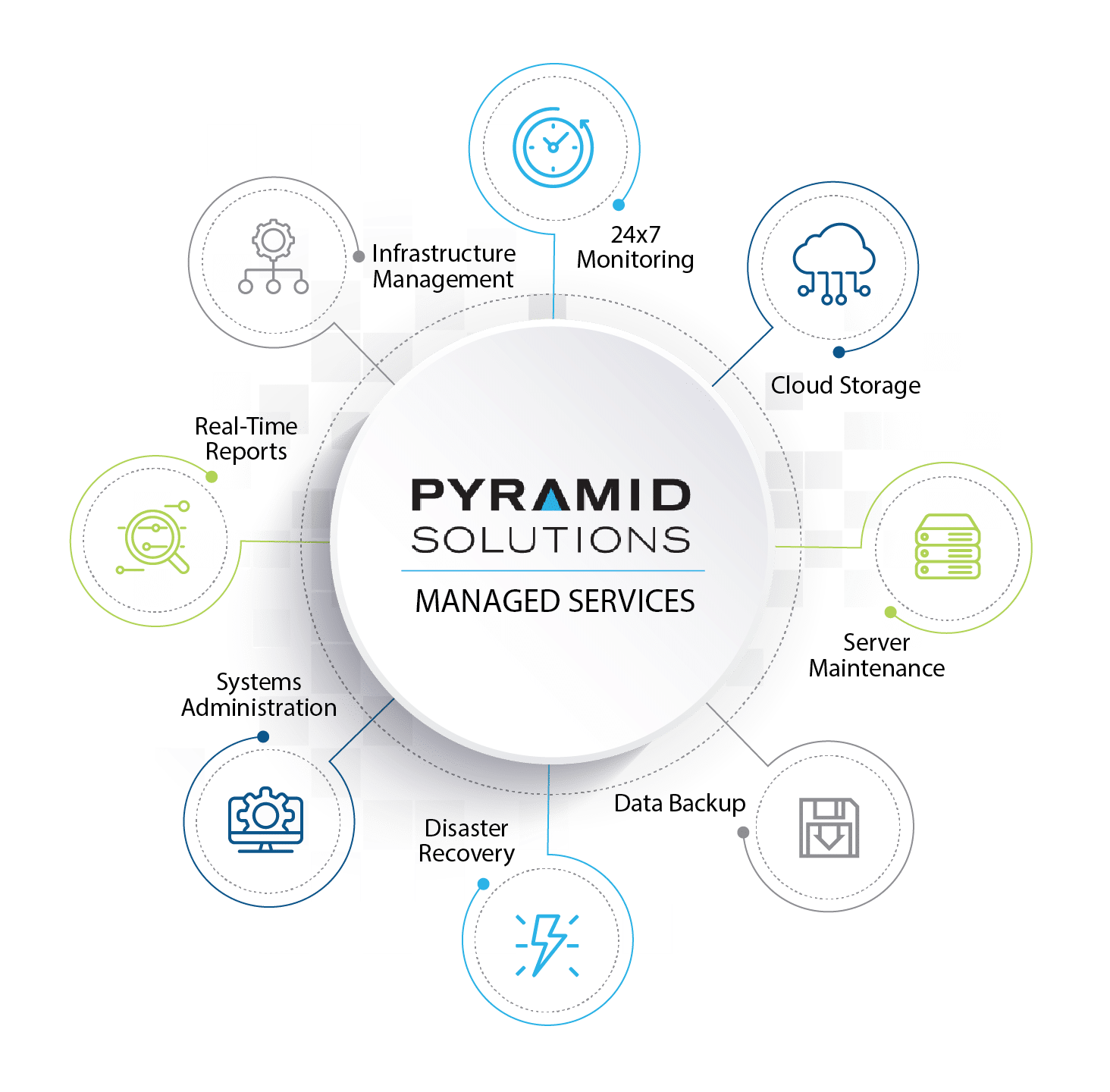 Produce Consistent Ratings and Risk Scores
White Paper: Medical Extraction: The First Step in the Journey in Accelerated Underwriting

Discover the possibilities of expediting your accelerated underwriting program with Medical Extraction.
How to Fast-Track Applications: Natural Language Processing for Life Insurance

Achieve organic growth with natural language processing to fast-track low-risk applications. Read More
IBM Datacap Insight Edition: Not Your Mother's Capture Solution

Document capture is making leaps and bounds. Ssee what we're doing with the IBM Datacap cocument management tool. Read Now
Accelerate

 underwriting today

.