Expediting Content Automation 
Pyramid eXpeditor™ allows you to easily automate the way you work and interact with content. Our pre-built solutions provide plug and play automation capabilities that expedite application development while increasing user adaptability and productivity.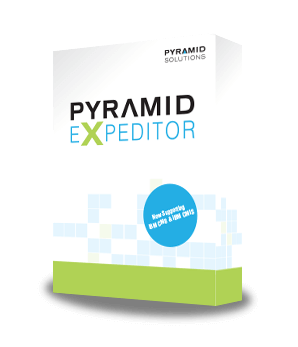 Agile eXporter
We designed Agile eXporter with a plug-and-play capability that makes it easy and cost effective to export, organize and deliver large sets of documents. Rather than placing documents into a flat, unorganized file, users can specify the configuration and easily export documents as needed. 
Pyramid eXpeditor for Content
A solution for organizations centrally managing their content, Pyramid eXpeditor for Content extends the functionality of IBM Content Navigator with plug-and-play capabilites. Each of these functionalities is business enabled, so you don't have to rely on your IT Department to make changes or create rules. Designated staff can create tags, manage who can make changes, preconfigure searches and more.
Pyramid eXpeditor for Case
Helps manage a case-driven process by extending the functionality of IBM Case Manager. Pyramid eXpeditor for Case includes capabilities that allow you to find, select and manage information in a single interface leveraging cross-repository searches, document tags, bookmarks and more. Delivered as building blocks, Pyramid eXpeditor for Case works seamlessly with any IBM Case Manager solution design and implementation.
Start automating with Pyramid eXpeditor