Pyramid Solutions has been providing visionary automation solutions for over three decades.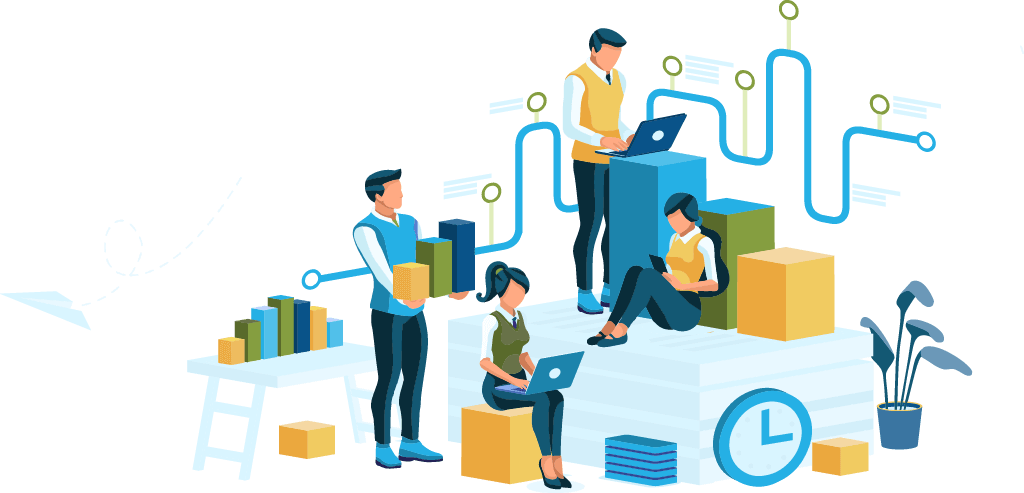 Founded in 1990, we began with a focus on helping manufacturers automate their production lines here in Detroit, and by the mid-90s, we quickly grew by expanding our solutions to include content services for financial institutions and government agencies.
But we didn't stop there! Soon, we began building partnerships with digital and industry leaders. With these strong relationships in place, we are now able to provide better automation solutions and services to our clients by leveraging trusted platforms and leading technology.
Pyramid Solutions opened our doors for the first time and landed a number of clients (some who we still do business with today) who sought our help in building out industrial automation networks
Recognized as an outstanding new business in Future 50 of Greater Detroit by the Michigan Manufacturers Association
Grew and expanded our offerings to include content services and solutions
Continued to grow and opened offices nationwide
2nd consecutive year Pyramid Solutions was named an outstanding new business in Future 50 of Greater Detroit by the Michigan Manufacturers Association
Pyramid Solutions celebrates 5 years in business
Became one of IBM's first FileNet partners
Ranked #18 in Michigan Private 100 Award by Crain's Detroit Business
3rd consecutive year Pyramid Solutions was named an outstanding new business in Future 50 of Greater Detroit by the Michigan Manufacturers Association
Launched IntelliWORKS MES Solutions
Ranked #20 in Michigan Private 100 Award by Crain's Detroit Business
4th consecutive year Pyramid Solutions was named an outstanding new business in Future 50 of Greater Detroit
Partnered with Rockwell Automation and quickly became a Rockwell Value Added Design Partner
Ranked #20 in Michigan Private 100 Award by Crain's Detroit Business
4th consecutive year Pyramid Solutions was named an outstanding new business in Future 50 of Greater Detroit
Partnered with Rockwell Automation and quickly became a Rockwell Value Added Design Partner
Won FileNet's ValueNet Award for Top Partner Great Lakes Region
5th consecutive year Pyramid Solutions was named an outstanding new business in Future 50 of Greater Detroit
Named #28 in Michigan Private 100 Award by Crain's Detroit Business
Released NetStaX development kits and tools
Recognized as one of Metropolitan Detroit's 101 Best & Brightest Companies to work for by Best and Brightest publication
6th consecutive year Pyramid Solutions was named an outstanding new business in Future 50 of Greater Detroit
Partnered with HMS Industrial Networks, making us an Anybus gateway solution provider
Became an approved ODVA member
Pyramid Solutions Celebrates 10 years of providing innovative solutions
Won FileNet's distinguished ValueNet award for Innovative Solutions in Financial Services
Teamed up with Kofax and became official partners
Won Kofax Top Channel Solutions for the Great Lakes Region
Won Crain's Detroit Business Best and Brightest Award
Recognized by AIIM International's Channel Connection for Fastest Annual Company Growth Rate
Became a Rockwell Automation Encompass Partner
Won IBM Pioneer Award for IBM Enterprise Content Management and Case Manager
Officially became Kofax Platinum Partner
Won IBM CTO Innovation Award for Information Management
Achieved Kofax Gold Partner status
Became a member of Mortgage Bankers Association
Pyramid Solutions celebrates 20-years of business
Received IBM Business Partner Award for Enterprise Content Management Achievement and Excellence
Won IBM Enterprise Content Management North America Excellence Award
Won IBM's prestigious IBM Beacon Award for our Outstanding Enterprise Content Management Solutions
After 25 successful years, Pyramid Solutions hit our silver anniversary
Became ESOP (employee-owned) company
Partnered with Automation Anywhere to expand our offerings with RPA technologies