The BridgeWay™ PROFIBUS to DeviceNet™ Gateway (AB7605) provides connectivity between a PROFIBUS-DP network and a DeviceNet network. This compact, DIN rail-mountable device solves a mission-critical problem by connecting existing or newly installed DeviceNet networks to PROFIBUS DP-Master PLCs, Scanners, HMIs or DCSs.
The AB7605 is the proven choice to monitor and control devices on a DeviceNet network from any PROFIBUS-DP Master.
The gateway operates as a PROFIBUS-DP Slave, allowing a PROFIBUS-DP Master to read and/or write data to/from 63 DeviceNet Slave devices if desired. The DeviceNet side of the gateway is a full DeviceNet Master and I/O scanner, complete with the Automatic Device Replacement (ADR) feature. With ADR, the gateway automatically restores configuration data to a device, once the DeviceNet network replaces a failed device. This eliminates the additional cost of PLC-based DeviceNet scanners and adds connectivity to your DeviceNet networks throughout the plant. The AB7605 can also operate as a DeviceNet Slave.
Configuring AB7605 is easy with Rockwell Software's RSNetWorx™ for DeviceNet or NetTool-DN-D (available from Pyramid Solutions). Configuration consists of building a scan list of the target devices on your DeviceNet network. This transforms the input/output data maps into PROFIBUS-DP I/O data.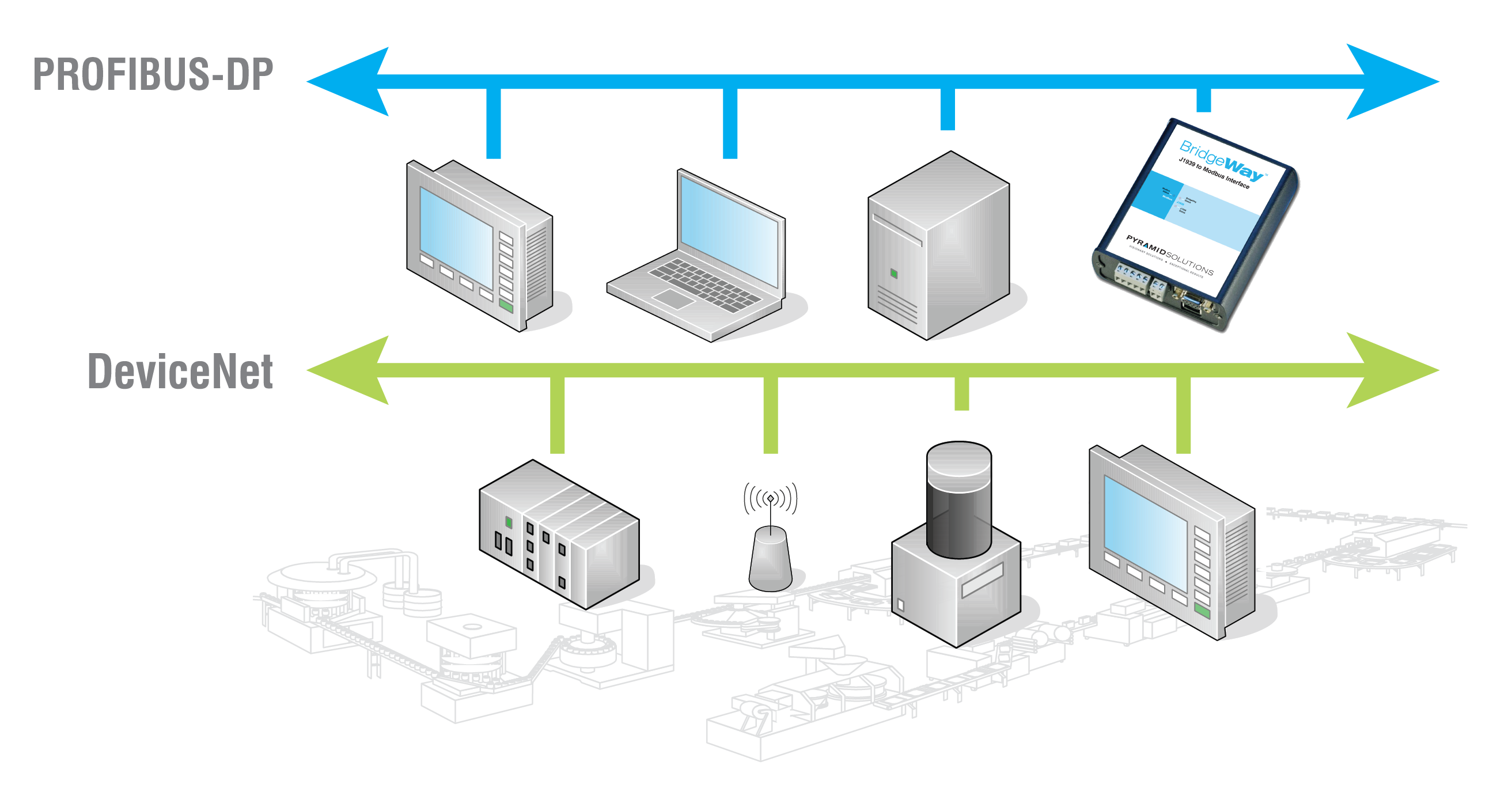 Features
PROFIBUS-DP to DeviceNet network connectivity
Works with a PROFIBUS-DP Master-compatible PLC, HMI or DCS
Complete DeviceNet Master/Scanner for up to 63 DeviceNet Slave devices or can operate as a DeviceNet Slave
Operates and appears as a PROFIBUS-DP Slave
DeviceNet configuration is performed using Rockwell Software's RSNetWorx™ for DeviceNet or NetTool-DN-D (available from Pyramid Solutions)
Supports Automatic Device Replacement (ADR) functionality (now 128k)
Supports Configuration Consistency Value (CCV) functionality
Supports DeviceNet Quick Connect client functionality
Supports configurable input safe state behavior
Optionally map the DeviceNet scanner status into the I/O data for PROFIBUS Masters that can't read diagnostic data
Supports FLASH field updates
LED network and module status indicators
DIN (includes DIN rail mount)
Rugged aluminum enclosure
AB7605 EDS and GSD files provided for configuration tools
Benefits
Enables existing or new DeviceNet networks to connect to incompatible control networks
Replaces high cost computer gateways and PLC scanners
Rapid installation and configuration
Superior product support
Specifications
Mechanical dimensions: L=4.96″ (126mm); W=4.30″ (109mm); H=1.65″ (42mm)
Operating voltage: 11 – 32 VDC
Operating temperature: 0 – 70° C
EMC compliance: EN50081-2 and EN50082-2
Certifications: CE and cULus
Optional Accessories
AB7605 Configuration Kit (Part No. AB7605-CFG)
3 meter 9-to-9 pin serial cable to configure the module with BWConfig software
Latest version of AB7605 User Manual, BWConfig software, EDS file and GSD file
Note: Need NetTool-DN-D (available from Pyramid Solutions) or RSNetworx to configure the module's DeviceNet Master scan list.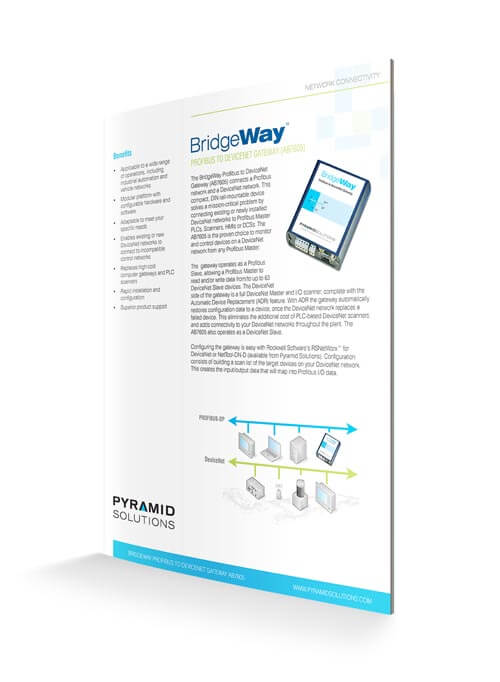 Download PROFIBUS to DeviceNet Data Sheet
Click here to download the configuration tool, application guides and user manuals or get support.