Managed Services for Business Process Automation
Say goodbye to the unwanted stress and burdens of building, deploying, managing and maintaining your IBM Cloud Pak for Business Automation applications. Our managed services solution does it all for you.
From standing up your architecture and developing applications to deploying and supporting, we handle it all. Giving you time to focus on more important things – like your customers. 
IBM Cloud Pak for Business Automation
IBM Cloud Pak for Business Automation is a powerful platform that allows you to innovate and optimize the way you operate and service your clients. 
From automating refund requests to managing the onboarding process for your employees, IBM Cloud Pak for Business Automation has the capabilities to implement processes across your entire organization with content, capture, decisions, workflows and RPA. It is built as a flexible platform that lets you start small and scale up as your needs evolve.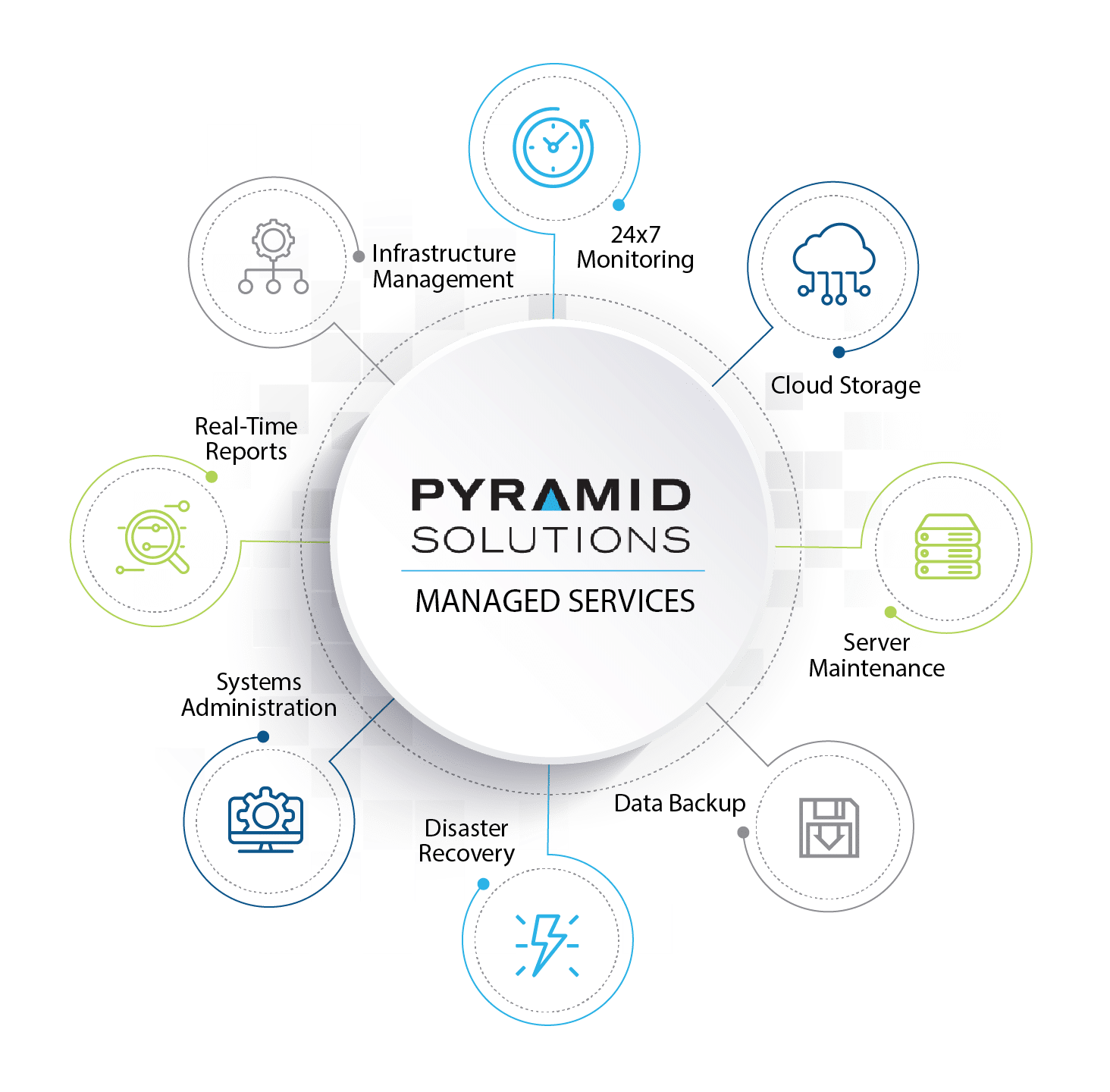 All the Benefits Without the Hassle
Managing and ensuring your infrastructure is healthy and the applications operating on it are too, leaves a lot of room for oversight. An oversight that could result in unexpected downtimes, ultimately halting your organization's operations.
Managing robust systems becomes harder if you don't have the skills to do so or a small IT team. This is where we come in.
Our Process Automation Managed Services gives you the assurance that your most important IBM applications are:
Developed and deployed correctly
Up and running
Maintain good health
Continuously monitored 

Completely secured 
Our customers experience expedited development and deployments with our one-of-a-kind tools and templates.
Our security policies and procedures ensure your data is safe, support regulatory compliances, and protects your customers' privacy.
To ensure high availability, we regularly monitor potential failures before they happen and use automatic switches to redundant components.
Our eyes are always on the systems to detect potential failures, provide regular updates, monitor key metrics, and provide automatic threshold alerts.
Our support team is there to ensure your applications are functioning as they should with regular updates, a 24×7 call center, and most importantly, a partner to help you through any difficulties you may face.
We knew we would be more successful partnering with Pyramid Solutions, and we were right…
Support Every Step of the Way

Benefits You'll Start Seeing
Reduced Operating Costs
Imagine a world where you're not paying for hardware or the energy and space it takes to own it. With managed services, you'll downsize your infrastructure footprint and overall costs. 
Complete Assurance
Never worry about hiccups with your application. Our promise to you is the assurance that your infrastructure and application will always be up and running.
Stay Focus On your Business
Managing infrastructure takes away from your core business, and let's face it, it's not fun either. Let us handle the tough stuff so can you focus on your main business objectives.
Predictable Monthly Costs
No matter how much support you need, there are no surprise costs or unexpected fees. You pay the exact same amount every month, so you'll know what to budget for — making it easier to save towards new innovations.

Increase Competitiveness
No longer will the cost of IT make it impossible for you to compete against the competition. Managed services drastically reduces the cost of ownership allowing you to obtain all the benefits of process automation without the hassle.
Increase Efficiency
By having more time to dedicate to your business and knowing your Cloud Pak application is always working, you'll start noticing your efficiency increase immediately across your organization.
Partnering with Pyramid Solutions
What makes Pyramid Solutions Managed Services unique is how we're more than just a managed services provider, we help our clients strategize best practices, develop, deploy and manage your entire system — infrastructure and applications included.
With over 30 years of working with IBM applications, we can promise you faster deployment and unparalleled expertise that only comes from years of working directly with IBM tools and clients across the globe.
We manage your applications right in the heartland! We stand behind the level of quality and innovation we bring to our projects and ensure it with 100% US-based operations. 
For more than 30 years we've worked with IBM applications and are proud to say we're a gold partner.
Our team has extensive training and certifications in the entire IBM Cloud Pak for Business Automation platform, so you know you're working with the best.
Common Managed
Services FAQ
_____
Can I use two different cloud providers?
Yes, using two different cloud providers is possible and sometimes preferred based on the  environment. 
I'm not sure which cloud provider to go with. Help?
No worries. We'll go over each cloud provider and our recommendations so you can make an educated choice!
Can you manage just one capability of the platform?
Yes, the beauty of the platform is that you can turn on what you need. So if you only need RPA, we can manage just your RPA applications. 
What's the difference between Managed Services and SaaS?
Software as a Service (SaaS) provides businesses with cloud-based software, while Managed Services is the handling of the software through on-going maintenence, disaster recovery and continuous support. 
Contact Us
We're ready to lead your team to an optimized way of working. Let's start exceeding your goals.