Get the most out of your IBM BAW investment.
Rely on a partner who actually knows about IBM Business Automation Workflow and doesn't just say they do.
From upgrading to brand-new installments, transform the way your company operates with the proper workflows that drive process efficiency, and reduce your overhead operating costs.
Partner with Pyramid Solutions, a preferred IBM workflow partner for over 25 years.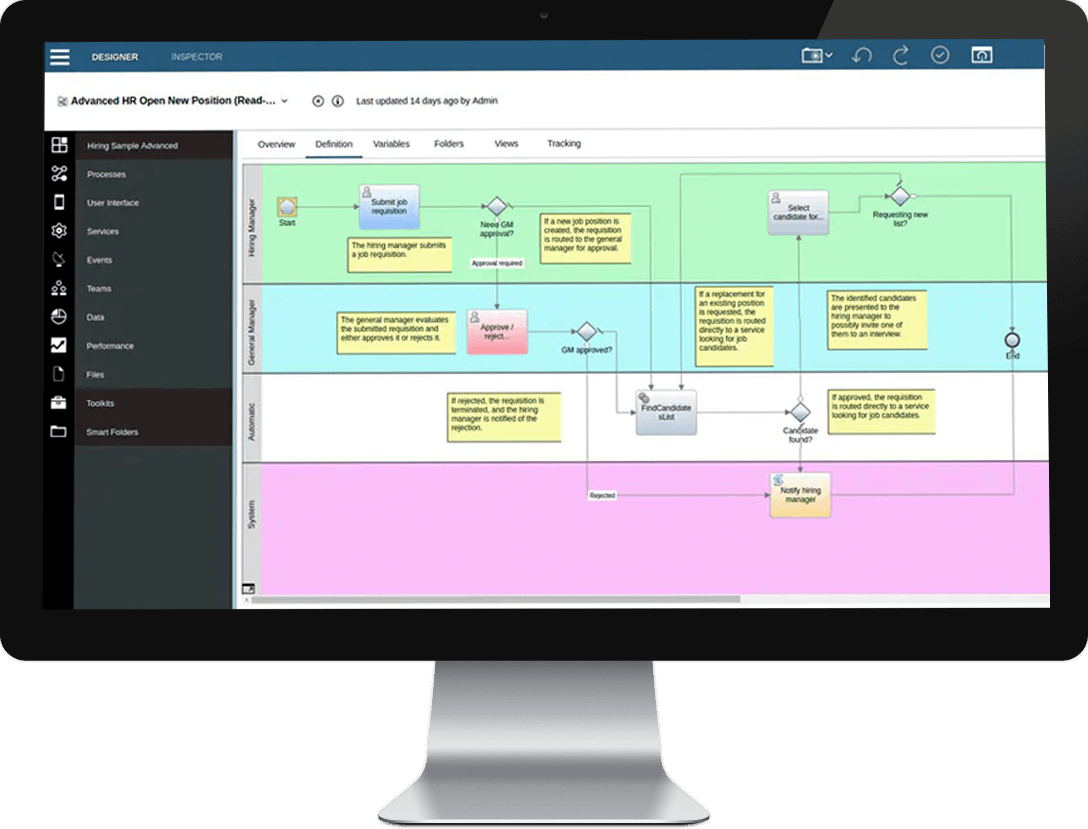 Working Smarter with IBM Workflows
IBM Business Automation Workflow (IBM BAW) unites information, process and users to provide a complete scope of work that allows your teams to work smarter with the information they have. It takes the best features from business process management and case management methodologies and marries them into a single robust workflow solution created with a design environment for business users in mind. 
With IBM BAW, you can easily create, monitor and control workflows on any environment: private cloud, public cloud, hybrid cloud, or entirely on premises.
 Bring Your IBM Workflows to Life
Are you wondering whether you should upgrade IBM BPM? Curious how your workflows will transform with IBM's Business Automation Workflow? Stop imagining and start doing! Whether you're looking into a workflow software from scratch or looking to upgrade, our digital transformation team is here to help you innovate, design, and deliver your vision on time and in budget. With over 30 years of workflow experience, you won't have to worry about which move is the right move. We follow industry-leading best practices and in-house tools to expedite our project deadlines and client objectives.
Assessment and Roadmap
Let us help you turn your workflow visions into reality by reviewing your goals and enabling them with best practices and a step-by-step path to get you there.
Installation and Deployment
Rely on a partner who has 30+ years of experience installing and deploying IBM Workflow Solutions.
Whether you're utilizing an on-premise, cloud or hybrid workflow application, trust in our experience.
Migration and Upgrade Services
Expedite your migration and upgrade projects with one-of-a-kind tools and templates that reduce the overall time and cost of your project.
Training and Support
Just because your solution is up
and running doesn't mean complete smooth sailing.
We train our clients to deal with pop up problems themselves, or they can choose to simply rely on our award-winning support team for help. 
Estimate Your Return On Investment with IBM BAW
Quickly and easily visualize the quantifiable value of IBM Workflow with our ROI calculator. See what your preliminary return on investment is to showcase the value IBM BAW can provide your organization.
See what's possible with IBM Business Automation Workflow
IBM Cloud Pak for Automation
Accelerate any IBM Business Automation Workflow application with IBM Cloud Pak for Automation. Capitalize on your ROI with an integrated platform to easily create repeatable resilient business processes with enhanced automation capabilities:
Robotic Process Automation

Document Capture

Decision Management
Content Management
Stop letting your competitors outperform you.
Start automating with IBM workflows today!
Our workflow teams are standing by waiting for their next challenge to conquer. Contact us today!