Exceed customer expectations with Virtual Contact Center Agents
Globally, 54% of all consumers say they have higher customer service expectations than they did just one year ago. How are you keeping up? 
By enabling virtual contact center agents, you can maximize customer satisfaction with rapid, dependable, and engaging interactions for each and every customer interaction, giving your customer the answers they seek in the time frame they expect — immediately.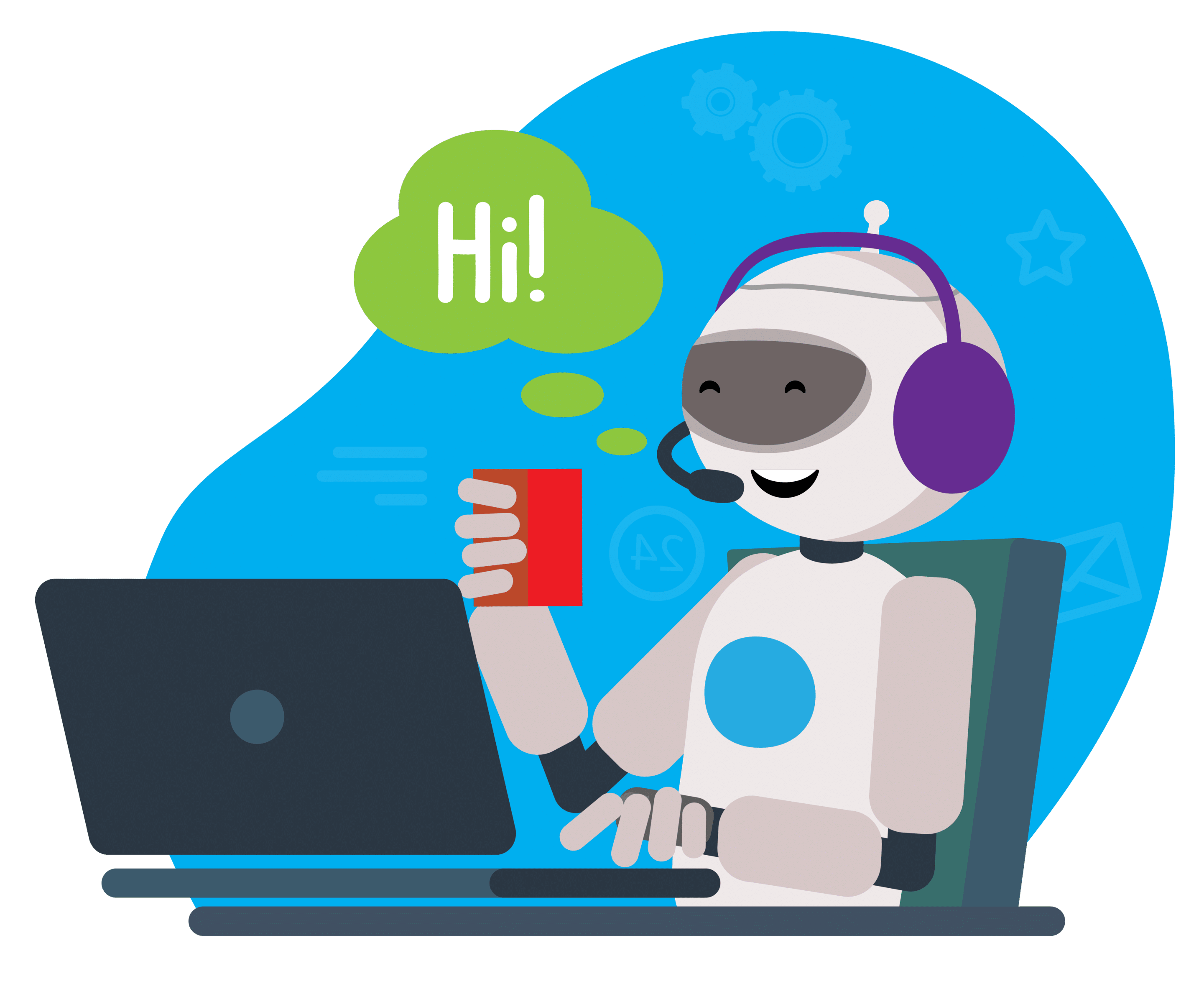 Transforming Contact Centers
What Are Virtual Contact Center Agents?
Traditionally, when you think of a contact or call center, you envision people around the globe in front of their computers strapped with headsets answering calls and routing customers to the correct department. Or you're reminded of the times you've contacted a company to only be shuffled around from department to department for 30 minutes to finally achieve what you've called for.
Those days are long gone.
Here at Pyramid Solutions, we're transforming contact centers around the world with our virtual contact center agents.
Virtual agents use the latest in robotic process automation (RPA) technology to work directly alongside your agents as attended bots to perform tasks on-demand or work independently as an unattended bot to automatically perform tasks to service your customers however they choose to communicate with you: email, phone or even online chat sessions.
Our agents are able to answer calls, hold online chat conversations, understand your customer's intent, find information and answer questions, route customers to the right person quickly, and a whole lot more. 
Key Challenges We Conquer
Rising Customer Expectations
Overloaded Requests/Calls
 Error-Free Processing
Let's be honest, mistakes happen. After all we're all human, right? Our virtual agents are error-free. No clumsy fingers, just speedy, accurate solutions for every customer. 
Boost Customer Retention 
One-third of consumers say they would consider switching companies after just one instance of bad customer service. Can you afford this? Our virtual agents' ability to understand customer intent means less frustration and higher retention.
 Available 24×7 Everyday
Providing great customer service means being available on your customer's schedule, not yours. Our virtual agents work 24×7 without sleep or vacations, allowing customers to reach you anytime, and most importantly, at their convenience.
Reduce Operating Costs
Between balancing high turnover rates and trying to keep up with surges in demand, chances are your operating costs are volatile and high. Virtual agents are 100% scalable, without taking any physical space, keeping operating costs low and predictable.
Watch Virtual Agents in Action
Contact us and schedule time to see how virtual agents can transform your contact centers and provide a better customer experience all around in a 3 minute demo. 
Did you know that chatbots can deflect 60% of repetitive customer inquiries?
Our chatbots are able to understand your consumer's intentions in real-time and provide a personalized experience on any channel like mobile or Facebook, for example. Our chatbots take the burden off your team by providing self-service capabilities to your customers to improve their overall experience. Your customers will be able to do things like obtain background verification or understand their application status all on their own — the possibilities are endless. Realign your agents to focus on providing better experiences on complex customer interactions and let the chatbots handle the rest. 
 Interactive Voice Response (IVR)
What's the worst part of calling into any organization? It's the game of "press 1 for …." and being routed from one department to the next! Our IVR bots don't route anything but instead provide answers. 

Powered by robotic process automation (RPA), machine learning (ML), and natural language processing (NLP) your callers will get the answers they seek instantly. Our IVR bots are able to understand a caller's request,  perform searches in any system, pull desired data, and communicate it back to the customer. Our IVR bots can even email requested documents instantly for such requests as employment verification, tax documents, and more. 
 
Robotic Desktop Assistant (RDA)
Wouldn't it be nice if we could all have an assistant help us with our jobs? Our Robotic Desktop Assistants are just that, and for contact centers, they can be a huge asset. 
RDAs are attended bots that live on your agent's desktop and can be triggered to perform various tasks with one simple click. They can assist with tasks such as logging into systems of record and gathering customer information, pull forms and applications, and even onboard a customer. With RDAs, contact center agents can quickly update information in multiple systems simultaneously without having to switch between screens, allowing all the focus to be on your customer. 
Join in on the movement and exceed customer expectations.
Get in touch and let's start running!
Can virtual agents work with any application?
The simple answer is yes. Our virtual agents are able to integrate into any system, on-prem or cloud-based.
What's the difference between your IVR and traditional IVR?
Traditional IVR tools are great if you're looking for a tool to route your customers to the right person or department, but they have their limitations. 
Our IVR solution is different as it actually fulfills your customer's requests without the need for human interaction. It will not route customers but rather obtain their balance, change their name on their account or even email requested documents like a W-2 or employment verification.
What is the difference between attended vs. unattended bots?
Attended RPA bots are ready and waiting to be activated by employees whenever they are needed to help the process along. Unattended RPA bots operate on a preset schedule, or as triggered by logic in the process flow. Attended bots can run on workstations or private servers or in the cloud.
How quickly can a virtual contact center be set up?
Adding virtual agents to your call center can take as little as just a couple of weeks! Contact us to get started today.