It's official! 
We are 
extending
 our
managed 
services
to now support 
I
BM Cloud Pak for Business Automation
infrastructure and applications 
—
giving clients the time to create innovative services rather than focusing on
tedious
 system
maintenance
.
IBM Cloud Pak for Business Automation is a comprehensive automation platform that enables businesses to innovate and optimize the way they operate their business processes. 
With extensive capabilities around content management, 
OCR, decisions management, workflow automation, and RPA, organizations are seeing as much as an 80% efficiency increase. 
In the post-COVID world, a lot of things have changed for organizations. Business-as-usual has lost its meaning to staying normal and productive when "business-as-unusual" happens, and a big part of this is the migration of applications to the cloud. Brian Benoit, director of the innovation team at Pyramid Solutions elaborates. 
"With all of the changes that have happened in the past year, companies have started to realize that a mobile workforce is here to stay. This has led to more and more organizations to look at reducing the internal infrastructure overhead and one of those ways that have quickly been shown effective is moving applications to the cloud."  
And while moving to the cloud is one step towards adapting and thriving in the post-COVID world, another is outsourcing the management of applications through Managed Services.  
Managing IBM Cloud Pak for Business Automation Like Never
B
efore
By extending our Process Automation Managed Services to now support the entire IBM Cloud Pak for Business Automation platform, organizations can obtain all the benefits of this extensive platform with a lower cost of ownership and the assurance their applications will be running 24×7 with no unexpected downtime.  
"Capitalizing on managed service offerings has a greater impact than most people think. For one, there's no worry about training your team to maintain your infrastructure and application. Our skilled experts will come onboard and handle everything for you from day one," said Benoit.  
 What makes our managed services offering different is we are here from step one of building out the application and making successful deployments all the way to trusted, reliable management with around-the-clock maintenance. That's right, we actually develop, deploy, migrate and test your entire Cloud Pak environment and application. Then after we're all done, we fully support your environment.   
For more than 30 years, Pyramid Solutions has dealt with IBM applications and with that, we bring unparalleled expertise. Throughout the years, we're worked with many clients in various industries to make the most of their IBM applications and tools with our certified team of experts.  
With Managed Services, we also offer 
Pyramid eXpeditor, our own in-house expansion pack of tools that complements IBM Cloud Pak for Business Automation with free form searching, checklists, split and merge, notes and bookmarks.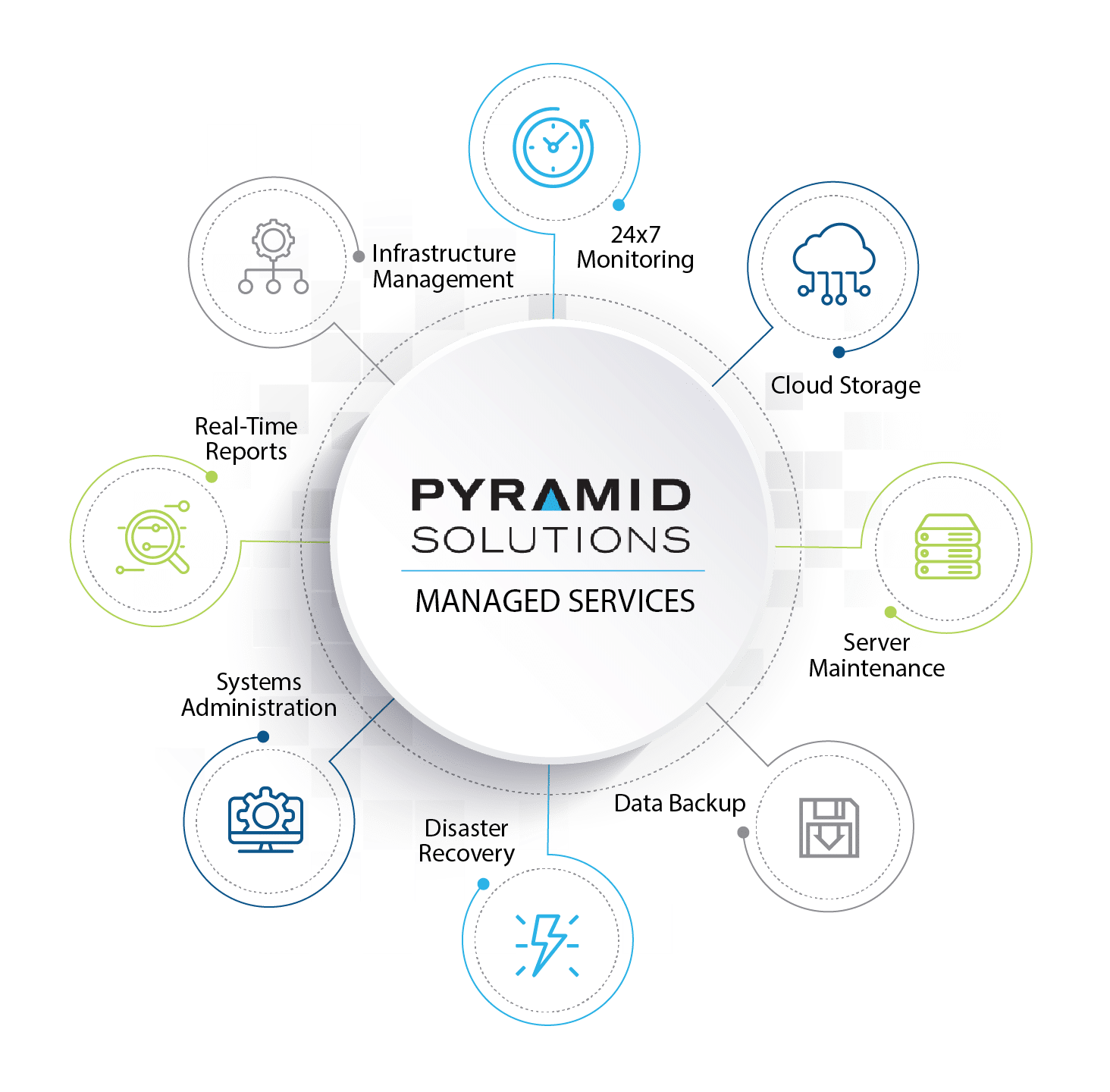 No matter how your systems are structured, whether it's on-prem, consolidating cloud environments, or taking a hybrid approach, we can step in to help. 
If you're thinking about moving to the cloud, we offer cloud assessment and planning, consolidation, and migration as part of our managed services offerings.  
We work with industry-leading cloud providers including UBX Cloud, IBM Cloud, AWS, Microsoft Azure, and Google Cloud, which you're able to choose from, or if you're not sure who to go with, we'll go over each cloud provider and make recommendations based on your needs and requirements.  
Get the assurance to know that your IBM applications are in good hands. Expect best practices in development, high availability and application health, and be free from the hassles of testing, upgrades, hotfixes, patches, production rollouts, and the many other tasks that involve managing your infrastructure.  
Our clients can expect: 
=

Swift and rapid deployments

=

High Availability
=

Day-to-day management of environment

=

24x7 monitoring and rapid issue resolution
=

Complete security

=

Application support - 24x7
About Pyramid Solutions, Inc. 
Pyramid Solutions helps organizations automate the way they work. Leveraging dynamic case management, business process management, robotic process automation, and advanced document imaging, our solutions drive greater operational efficiency by reducing dependency on manual business processes. 
Our deep understanding of information, content management, and best practices position us to offer innovative, effective solutions to meet your business goals. This is why time-and-again, clients trust us to resolve their operational and technological challenges, identify strategic opportunities and deliver best-in-class solutions with exceptional results.  
For any questions regarding Managed Services, please reach out to [email protected].