Whether it is regulatory requirements, warranty cost sharing pressures, name reputation or customer satisfaction, the best defense is a quality process that is inherent in your manufacturing operations. The ultimate goal is to have a repeatable quality process that provides the foresight and control to deliver conforming parts to your customers.
Your Defect Tracking Software – IntelliWORKS
Historically, quality management techniques implement inspection, repair and analysis after the fact. IntelliWORKS has built-in process controls and data collection so you can predict, prevent, analyze and see the manufacturing or assembly process in real-time.
IntelliWORKS is easy to use, maintain and configure. It has a highly intuitive user interface that includes a touch screen, bar code scanner and keyboard functionality. Most importantly, it enables your production team to make informed decisions and improve the production environment based on real-time actionable data.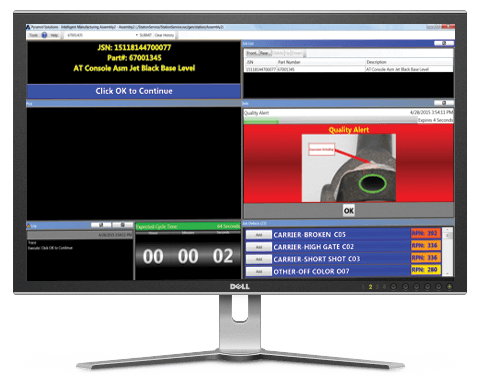 Features
Unlimited user-configurable defect definitions
Tracks and routes defective parts
Defect identification through process enforcement, user input or tooling integration
Intuitive user interface with touch screen, barcode scaner and keyboard functionality
Integrates with enterprise applications, ERPs or quality management systems
Repair or scrap disposition
Enables routing and accounting for repairable and unsalvageable parts
Runs on Windows/Intel platforms
Deploy as a standalone or networked application
Supports the PFMEA process – defects can be assigned Risk Priority Numbers
Andon displays with standard and customizable reporting
Benefits
Identify quality trends that result from machine problems, faulty manufacturing methods or operator errors
Assure that only parts with 100% conformance leave your facility
Simplify audits
Conduct root-cause analysis to improve quality
Optimize repair processes and react to defects faster
Reduce returns, warranty costs and chargebacks from customers