Empower Your Greatest Asset — Your Employees
Pyramid eXpeditor for Case takes any IBM Case Manager solution to the next level with enhanced content-processing capabilities and tools. Empower your greatest asset — your employees — and achieve exceptional business results by intelligently managing information.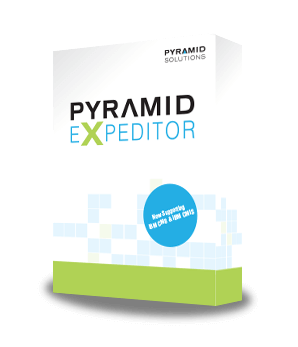 Tools to Work Smarter
Give your employees an interface that works for them. Pyramid eXpeditor for Case combines essential tools into a single interface so your employees perform as efficiently as possible. Users can instantly see and understand their workload, dive into case content and client information, communicate in real-time with colleagues, and most importantly, inform their managers when tasks are complete so they can assign new tasks to keep the business humming.
Increase Efficiency
You may just have to see this to believe it. The high-speed bookmarking viewer displays documents and images as fast as they load so you can browse, search for words, and manage annotations sooner. Our unique bookmarking capability identifies key document information and provides one-click access so you get answers fast.
Maintain Consistency
Provide users with a single reference point for all the steps and documentation needed to complete any task within a process. Our interactive checklists group prescribed checks, tasks, actions and internal comments while triggering workflows. Record any actions and decisions taken to increase visibility and control.
Find What You're Looking For
Our NEW cross-repository search function helps you find documents, folders, bookmarks, tasks and more deep in the roots of your IBM P8 and CMIS repositories. You can also configure searches to render results in graphical or tabular reports.
Save Time
Easily split documents into two or merge documents together to create and send a single file directly within IBM Content Navigator's interface. You can also rotate, rearrange and remove individual pages then publish the new file.
Take Notes With Ease
Painlessly take free-form notes directly within the case you're working on. You can use the notepad as a free-form space or customize it to give users an outline to follow. When you're done taking notes, easily publish them directly to the case.
Jump to Information With Ease
Automatically extract and categorize key document information so you can make informed decisions sooner. Authorized users can configure the categories so you stay in front of changing business requirements.
"Improved case management capabilities will move our employees away from repetitive, manual work towards focusing on delivering an exceptional customer experience. Teams will be able to handle a greater volume of work more efficiently so they can provide fast, high-quality service. All of this will go a long way in helping Great American Insurance Group's Property & Casualty Group meet the needs of today's customers, sharpen our competitive advantage and support continued growth."
— Divisional AVP – Enterprise Content Management, Property & Casualty Group IT Division – Great American Insurance Group
Capture Data
Pull unstructured data directly from incoming documents.
Extract Only What Matters
Only extract relevant data so your system is clean and up-to-date.
Analyze Information
Easily consume extracted data.
Act on Insights
Get work done with built-in processing tools.
 What to Look for in a Modern Document Viewer

Compare how document viewers stack up against Pyramid eXpeditor.
White Paper: An Enterprise Approach to Managing Content

Ensure you have the right strategy in place for enterprise success.
Explore Pyramid eXpeditor's Split and Merge Tool

Watch how to effortlessly split and merge documents.
Start Innovating with Pyramid eXpeditor