NetStaX EtherNet/IP Scanner Development Kit
Version 5.1
Version 5.1 Now Available with CIP Security Functionality
Pyramid Solutions' NetStaX™ EtherNet/IP™ Scanner Development Kit (ESDK) with Scanner Class Stack allows you to quickly introduce EtherNet/IP Scanner (client) Class and/or Adapter (server) Class and CIP Security functionality to your products and systems.
NetStaX™ EtherNet/IP™ Scanner Development Kit includes Client, Server and I/O Messaging and CIP Security functionality. In addition, ESDK includes an API for using Common Industrial Protocol over standard Ethernet.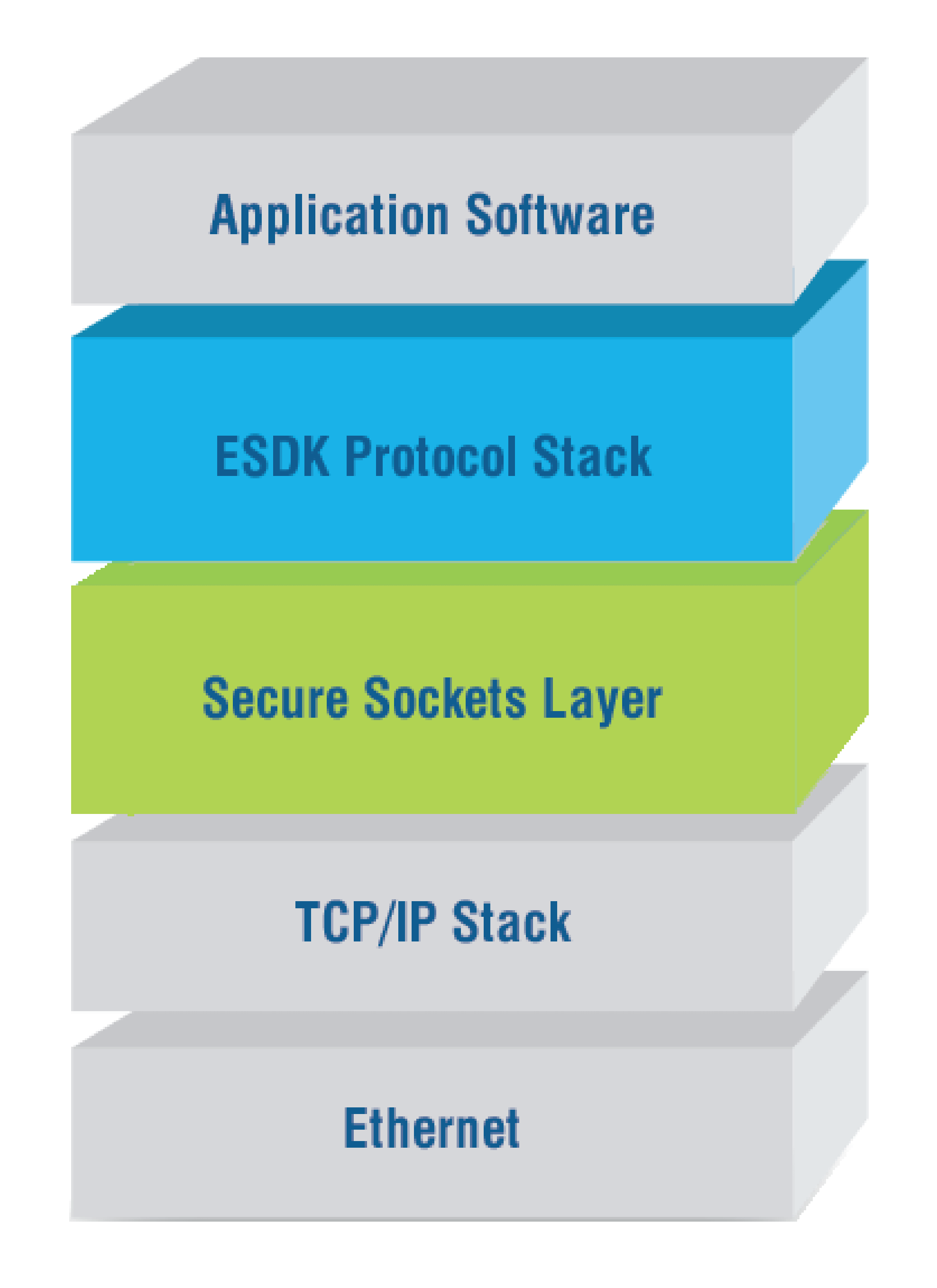 ESDK interfaces with your product's application software and socket level TCP/IP interface. Easily configure ESDK via the Scanner's application code or through the network via the included connection configuration object (CCO). Users can configure connections through Rockwell Software's RSNetWorx™ for EtherNet/IP or other tools capable of interfacing to the CCO.
The ESDK source code uses an object-oriented approach. ESDK building blocks, such as TCP/IP sessions, CIP connections, explicit requests, and all implemented CIP objects, including assemblies, are grouped into separate modules with corresponding functionality.
This makes the source code easier to understand and debug.
Components
EtherNet/IP Scanner protocol stack 'C' source code for cross-platform development and portability
ESDK Scanner DLL with C++ function call API, C# API and COM APIs for using the ESDK stack with Windows and .NET applications (32 and 64 bit DLLs included)
ESDK-Secure for CIP Security functionality – Optional
Example Scanner Class Application code (executable and source) that demonstrates the use of the scanner stack APIs and functionality
ESDK Getting Started and Porting Guide, and Software Reference Manual
Features
Version 5.1
ODVA CT17 conformant
Supports TCP/IP object revision 2
Supports Ethernet Link object revision 4
Flexible so users can specify the number of connections, requests, etc. from build time parameters
Supports "Big 12″ Diagnostics
Includes files for ODVA Conformance Test
Compatibility
Enables EtherNet/IP Scanner Class and/or Adapter Class functionality for your product
UCMM (unconnected) messaging client and server
Class 3 (connected) messaging client and server
Class 1 (I/O) connection client and server
Resource Utilization and Management
All resources initialized at startup
No dynamic memory or thread allocation
Stack runs on a single thread
Platform, OS and TCP/IP Stack Compatibility and Portability
"Platform files" separate single platform-specific routines for simple porting
Useful in many devices and environments including: Embedded: VxWorks, Linux, uC/OS, Windows CE/Mobile, Netburner, No OS (timer tick), and PC based Linux and Windows (using the included DLLs)
Compatible with most TCP/IP stacks that provide reasonable Berkeley Sockets compatibility
Stack core source is 'C' code for portability. Stack code movable across platforms with little-to-no modification
Supported/Included Objects and Features
Message router
Connection manager
Port
File object
Ethernet link
TCP/IP Rev 4
Connection configuration object
QOS
# DLR
CIP sync
Assembly
Identity (supports type 2 reset)
Custom objects
Modbus translator
Class 0 support
Energy object
*CIP Sync object for configuration only – IEEE1588 stack not included
#DLR object for configuration only – DLR software and hardware not included

Just Released V5.1 
CIP Security

Talk with one of our connectivity experts.