BridgeWay J1939 to Modbus Interface
The BridgeWay™ J1939 to Modbus Interface Gateway (AB7606) provides connectivity between a Modbus RTU (RS485 serial 2 wire) network and a J1939 (CAN) network. The AB7606 operates as a Modbus RTU Slave device, allowing a Modbus RTU Master to read and write J1939 PGN data.
We provide a free downloadable Windows-based configuration tool (BWConfig) for the AB7606. This PC-based software allows users to map J1939 parameter (PGN) data into the AB7606 I/O table memory, which is accessible from a Modbus RTU Master as Modbus registers.
Configuration of the AB7606 is easy with BWConfig. It consists of setting up an I/O table containing the J1939 PGNs you wish to read or write, and determining the rate at which each will be read or written from/to the J1939 network. BWConfig maps the I/O table to a range of Modbus registers accessible from the AB7606 Modbus RTU interface. Users download the configuration from BWConfig to the AB7606 via an RS232 connection. It saves in Flash memory. You can also upload an existing configuration from the AB7606 for comparison or to update the configuration.
Features
Interface/gateway between PLC/HMI/PC/System and J1939 network
Configuration via free Windows-based software tool (BWConfig)
Supports Flash field upgrades
LED network and module status indicators
DIN (includes DIN rail mount)
Rugged extruded aluminum enclosure
Brand label/OEM options
Supports SAE J1939 (CAN) and Modbus RTU Slave (serial RS485)
Specifications
Mechanical dimensions: L=4.96″ (126mm); W=4.30″ (109mm); H=1.65″ (42mm)
Approximate weight: 16 oz.
Operating voltage: 11 – 32 VDC
Current requirements: 93-95 mA at 24 VDC
Operating temperature: 0 – 70° C
EMC compliance: EN50081-2 and EN50082-2
Certifications: CE and cULus
UL certification: E203225, Listed 67AM, UL-1604 Class 1, Div 2, GP A, B, C, D, Temp code T4
ATEX certification: ATEX 135419, II 3 G, EEx nL IIC T4, DEMKO 03
Optional Accessories
AB7606 Configuration Kit (Part No. AB7606-CFG)
3 meter 25-to-9 pin serial cable used to configure the module with BWConfig software
Latest version of AB7606 User Manual, BWConfig software, application notes and sample configurations
The AB7606 15 Pin Connector and Backshell Kit (Part No. AB7606-CON)
The kit contains the material needed to connect AB7606 to a J1939 Network, Module Power and Modbus RTU RS485 network:
15 pin D connector with numbered solder cups
CANable Lite – PGN Monitor/Viewing Package (Part No. CANable Lite)
Used to view the PGN messages on a J1939 (CAN) Network (necessary for integrating or troubleshooting an installation).
USB to CAN Adapter
CANable Lite PC/Windows Software
User Manual
MasterSim Lite – Modbus Master Simulator for the AB7606
Used to test Modbus Master connectivity and data mapping without using a PLC/HMI, etc. (necessary for integrating or troubleshooting an installation).
USB to RS485 Adapter
MasterSim Lite PC/Windows Software
User Manual
Download the J1939 to Modbus Interface Data Sheet
Click here to download the configuration tool, application guides and user manuals or get support.
Get Support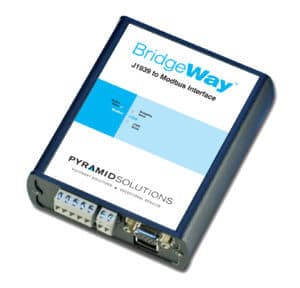 Talk with one of our connectivity experts.