Blog & Resources
Enterprise Content Management
This is how I envision the mortgage industry today: A middle-aged woman dressed in a suit balancing on a unicycle on a platform that keeps moving. She is juggling five different objects and has a group of spectators shouting requests like "close your eyes!" and "juggle faster!"
read more
A top publicly traded consumer mortgage lender in Michigan offered poor service because of its aging technology. When customers inquired about their loan status, processors struggled to answer questions because they had limited visibility into where the loan actually was within the process.
read more
A top U.S. lender set a goal to become one of the largest non-bank originators in the nation, however, a major roadblock to achieving that goal was auditing loans before the secondary market.
read more
A national mortgage lender manually applied its audit policies every time it purchased Mortgage Servicing Rights (MSR) from business partners. Each audit must adhere to compliance standards and regulations, however, the manual effort to perform every audit was a bottleneck that made the process take weeks longer than necessary.
read more
Every day we use tools that help us get our work done. But, how do you know when to upgrade the tools? Or if they're obsolete because of advancements in technology?
read more
Five myths about claims processing and the facts that debunk them.
read more
Infographic shows top 10 trends shaking up the wealth management industry.
read more
Today's mortgage bankers focus on providing the "American Dream" of homeownership to a new generation of borrowers. That's why our Banking & Financial Services Team looks forward to attending the 45th Annual Western Secondary Market Conference on July 19-21. The...
read more
Have you heard? IBM reformatted their traditional IBM Content roadshows into workshops focused on Datacap, Case Manager/Content Foundation (FileNet) and ECM strategies.
read more
Pyramid eXpeditor 4.0 was great, but it is time to say hello and welcome 4.1. Pyramid eXpeditor (PX) is a collection of tools that extend IBM Case Manager and IBM Content Navigator capabilities to facilitate strategic characterization, searching and processing of structured and unstructured content for businesses.
read more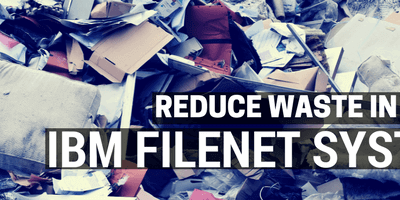 Do you remember the comical collision of characters in the Reese's Butter Cup commercials? Each holding their favorite treat (one chocolate and the other peanut butter), the two collide and give rise to the catchy line, "two great tastes that taste great together."
read more
As ECM technology continues to evolve, solution providers create new content storage systems that boast better features, more attractive options and improved support over legacy systems. But to leverage a new system, an organization has to move all of its content (documents, files, annotations, metadata, etc.)
read more
Since IBM launching FileNet P8, workflow-related tools such as Process Designer, Process Administrator and Process Tracker have typically been launched from Workplace XT (WPXT). However, recent versions of P8 shift more and more functionality to newer UIs like Advanced Console for Content Engine (ACCE) and IBM Content Navigator (ICN).
read more
This visionary solution helps insurance providers better process structured and unstructured content to decrease the time it takes to process a policy.
At IBM Content 2017, Pyramidians presented on how to better leverage cognitive capture solutions to extract key process information such as data from medical documents.
One of our two presentations at IBM Content 2017 was about best practices for extending IBM ECM with IBM Case Manager.
Siloed departments, budget limitations, lengthy approval processes and limited resource availability are common hurdles to overcome when implementing new technology. Our solution to this challenge was to create a reusable approach to case solution development.
read more
By combining IBM Predictive Analytics and Bluemix tools, you can tell which tasks, data and documents will lead a case to a more successful completion. These tools can extend both on-premise and cloud solutions that you may already have. We use predictive analytics to make a standard case solution smarter. This means knowledge workers can make decisions guided by cognitive components. With each case processed, the tool becomes more knowledgeable and accurate, taking case solutions to the next level. Below is a presentation we gave at IBM World of Watson.
read more
When businesses do not uphold service level agreements (SLAs) customer satisfaction drops, operational costs rise, and management oversight complicates. Discover how Pyramid Solutions uses IBM Bluemix, SPSS and IBM Case Manager to help businesses monitor and manage SLAs in the onboarding process. Below is a presentation we gave with Union Bank at IBM World of Watson.
read more