"The pace of change has never been this fast before and it'll never be this slow again." This quote nails the impact technology is having in all industries as the digital revolution matures. Technological impacts and the pace of change does vary from one industry to another and many single out insurance for being slower and behind.
read more
What is Lean manufacturing? Lean manufacturing or lean production, is a systematic method for waste minimization within a manufacturing system without sacrificing productivity. To be a lean manufacturer, you need an agile manufacturing execution system (MES) that adapts to the manufacturing processes and provides monitoring and control functions to efficiently produce quality product in a non-intrusive manner.
read more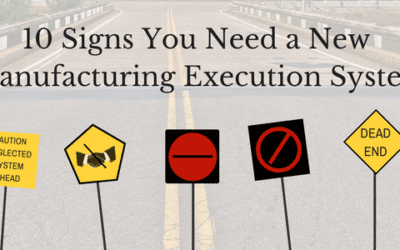 The heart of your plant's manufacturing operations is the manufacturing execution system (MES). If the heart is not performing like it once did though, then it may be time to consider intervention. Below are 10 warning signs that it is time to either replace your current MES or give it some much-needed attention and updates.
read more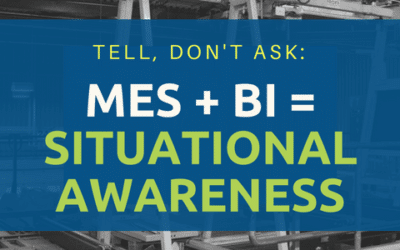 If it is doing its job, a manufacturing execution system (MES), fulfills the role of system of record by collecting "all" data associated with the manufacturing process. The traditional way to tap into this data avalanche is with reports. A useful system has many reports covering all the parts of the database.
read more
Implementing EtherNet/IP on any device can be intimidating, especially if you have never done so. But don't worry, it doesn't have to be! The most crucial part of any EtherNet/IP project is appropriate planning and understanding of the basics.
read more
Network connectivity is accessing, collecting, sharing and utilizing data across your enterprise. It also means communicating with more of your enterprise.
read more
As the Annual ODVA Industry Conference approaches, I'm preparing presentations for the EtherNet/IP Implementors Workshop which will be held in conjunction with the conference. During my presentation work, I was struck by a question that never seems to be well answered: What is the Implementors Workshop and who should attend the meetings?
read more
There are six values that we as Pyramidians hold that together make up our core – our foundation as an organization. Our basic, essential way of being and operating. We strive to display these values in everything we do. We look for them when interviewing candidates to join our team, and we challenge one another to bring these traits out of each other.
read more
A unique aspect of working at Pyramid Solutions is our Casual Friday Fund. Employees are permitted to wear jeans and casual clothing on Friday, as long as they donate $2 to the fund. At the end of every quarter, we total the donations and pick a local organization to donate the money to. However, we do not randomly choose these organizations, but they are selected for one specific reason – because it's close to the heart of one of our employees.
read more
As STEM career opportunities increase, technology advances and the circle continues to repeat itself. It is exciting to be a spoke in that wheel. With so many STEM jobs out there, how do you know which to choose? Well if you're considering Pyramid Solutions, whether it be a STEM position or something else, here are some reasons why our Pyramidians chose to build a career here.
read more